Events
"Trayectorias / Cultural Exchanges: Music between Latin America and Europe, 1970–2000"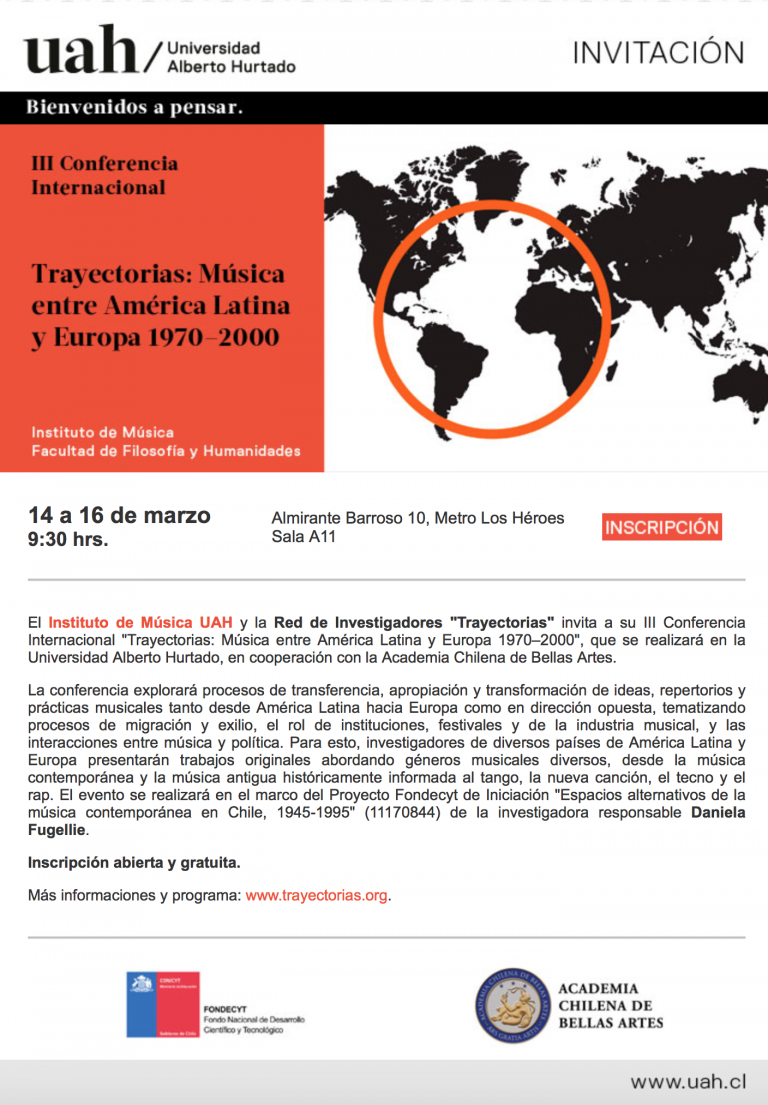 March 14 to 16, 2019 14 to 16 March 2019, Universidad Alberto Hurtado.
III International Conference
The research network "Trayectorias" invites to its III. International Conference, taking place from March 14 to 16, 2019 in the Universidad Alberto Hurtado, in collaboration with the Chilean Arts Academy. The conference will explore processes of transfer, appropriation, and transformation of ideas, repertories, and musical practices from Latin America to Europe and from Europe to Latin America during the last three decades of the 20th century, focusing on migration and exile, the role of musical institutions, festival and the music industry, and the interactions between music and politics. Researchers from different Latin American and European countries will present papers on different musical genres, from contemporary music and HIP to tango, nueva canción, techno and rap. We will also organize round tables, a book presentation, and a concert. The preliminary program will be published here.
The activities of the conference are open to all interested participants and are free of charge.
ORGANIZERS
Research Network "Trayectorias", www.trayectorias.org
Research Project Fondecyt de Iniciación 11170844, "Espacios alternativos de la música contemporánea en Chile, 1945-1995"
Universidad Alberto Hurtado
PROGRAM COMMITEE
Daniela Fugellie (Universidad Alberto Hurtado)
Luis Merino (Universidad de Chile – Academia Chilena de Bellas Artes)
Matthias Pasdzierny (Universität der Künste Berlin / Berlin-Brandenburgische Akademie der Wissenschaften)
Christina Richter-Ibáñez (Universität Tübingen)
Dörte Schmidt (Universität der Künste Berlin / Berlin-Brandenburgische Akademie der Wissenschaften)
Omar Corrado (Universidad de Buenos Aires)